LOUDREADERS
Left: Loudreader reads from the newspaper Below: Luisa Capetillo Loudreads in a tobacco factory
A century ago, at the same time that the celebrated Bauhaus, under the direction of Walter Gropius, kept women away from the main disciplines of architecture, sculpture, and painting, in the US colony of Puerto Rico, a group of tobacco workers, organized in anarchist syndicates, created a simple and fascinating alternative practice of education. That practice grew international networks like tentacles over the map of the Americas, from San Juan to New York, from Ybor City and Durham to La Habana and Santo Domingo, giving birth to what some historians call the most enlightened proletariat force in the continent.

The practice was simple. While tobacco workers engaged in the alienating labor of rolling cigars, they would hire one of their own to read aloud for them during the entire work-day. While the readings consisted mostly of newspapers, magazines, and literature, the Loudreaders focused on Darwin, Bakunin, Kropotkin, Marx, and Engels fomenting an anti-capitalist, decolonial imagination. As the practice of loud-reading grew, the lectores (Loudreaders) will become traveling performers with an international audience, creating new networks of solidarity all around the Caribbean as well as a massive, shared, and open access oral library to workers who were denied any other form of formal education. The tobacco workers turned the mind-numbing characteristics of their repetitive, manual, and boring work of rolling cigars into an advantage, using the same space and tools of their capitalist exploitation to create an anti-capitalist underground culture.







Luisa Capetillo: LOUDREADER

Luisa Capetillo (b. 1879, Arecibo) was a worker, writer, labor organizer, and Loudreader. In a time when Loudreading was mostly performed by men, Capetillo—who had been arrested in La Habana for wearing a shirt, tie, pants, and short brim hat—offers a model for contemporary forms of Loudreading. In Puerto Rico, Tampa, and New York, Capetillo will Loudread texts by Kropotkin, Bakunin, Malatesta, while serving as a syndicalist representative for the workers and creating and distributing emancipatory propaganda.

In 1909 she publishes La Mujer (Women), and the following year publishes La Humanidad en el futuro (Humanity in the Future), a utopian tale centered around a central strike. She writes about freedom, sexual education, and the rights of men and women.

Notes Araceli Tinajero, El lector de tabaquería: historia de una tradición cubana , (Madrid: Editorial Verbum, 2007).

Luis Othoniel Rosa, The Tobacco Intergalactic School (Postnovis Branch in the Americas)' Feb. 1st, 2019 – Feb. 1st, 2031
-------------------------------------------------------------------------------------------
LOUDREADERS
dpr-barcelona
dpr-barcelona
is an independent research studio and publishing house which operates in the fields of architecture, political theory and the social milieu. Their publishing work includes several books exploring how architecture as discipline reacts in the intersection with politics, technology, economy and social issues; their publications, both digital and printed, transcend the boundaries of conventional publications, approaching those which are probably the titles of architecture in the future, exploring the limits between printed matters and new media, transforming traditional publishing practice as we know it, into a live exchange of knowledge. They also contribute often to a diverse range of publications, including books and magazines such as
Harvard Design Magazine
,
The Architectural Review
,
ARQ
,
e-flux
, and Volume, among others. Their curatorial practice includes "Adhocracy ATHENS" (together with Pelin Tan) for the Onassis Cultural Centre in 2015, winner of the ADI Culture Award 2016; and more recently, "Twelve Cautionary Urban Tales" (Matadero Madrid, 2020), among others. Since 2016, dpr-barcelona is member of Future Architecture.
dpr-barcelona
are Ethel Baraona Pohl, César Reyes Nájera and Anne-Sophie de Vargas.
http://www.dpr-barcelona.com/
Timur Sin-Qin

Artist Timur Si-Qin's interests in the evolution of culture, the dynamics of cognition, and contemporary philosophy, weave together to create a new kind of environmental art. Taking form through diverse media, installations of 3D printed sculptures, light-boxes, websites, texts, and virtual reality, Si-Qin's work often challenges common notions of the organic vs the synthetic, the natural vs the cultural, the human vs non-human, and other dualisms at the heart of western consciousness. Si-Qin's long term meta-project is the proposal of a new secular faith in the face of climate change, global pandemics, and biodiversity collapse, called New Peace. Through New Peace individual works aggregate into a hyper-distributed, branded ecosystem of signifiers. Drawing from disparate disciplines like the Evolution of Religion, Marketing Psychology, and New Materialist philosophy, Si-Qin regards spiritualities as cultural softwares capable of deep behavioral and political intervention. New Peace is thus a new protocol for the necessary renegotiation of our conceptual and spiritual relationship with the non-human. New Peace is an artwork, a church, a brand, and a memetic machine. Si-Qin is a New York-based artist of German and Mongolian-Chinese descent who grew up in Berlin, Beijing, and in the American Southwest. Recent exhibitions include Von Ammon Co., Washington D.C., Riga Biennial of Contemporary Art 2, the 2019 Asian Art Biennale, the 5th Ural Industrial Biennale of Contemporary Art, UCCA, Beideihe, Spazio Maiocchi, Milan, The Highline, NY, and Magician Space, Beijing.


LOUDREADERS Session 16: Manual of Anti-Racist Architecture Education

October 25, 2020
6:00pm EST
Cruz Garcia & Nathalie Frankowski / WAI Architecture Think Tank loudreads the publication of A Manual of Anti-Racist Architecture Education.
Download the Manual
free here
.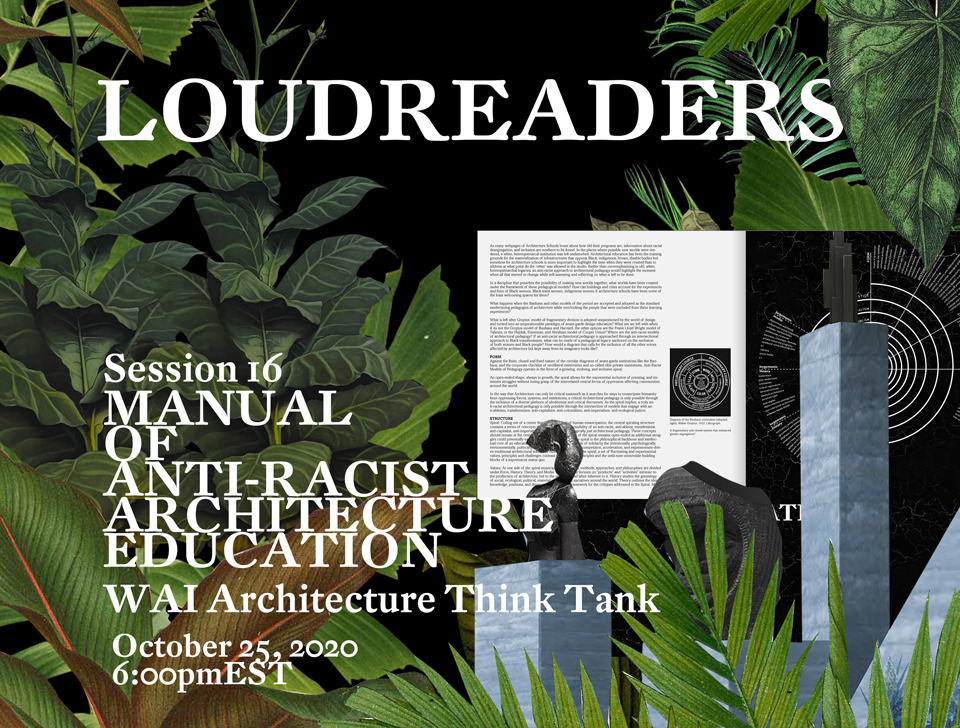 LOUDREADERS Session 15: Insaf Ben Othmane

September 19, 2020
11:00pm EST
Insaf Ben Othmane Loudreads Antonio Gramci theories on cultural hegemony, Edward W.
Said
polemics on Orientalism, and letters from refugees in a world in crisis.
Insaf Ben Othmane is a Tunisian architect, urban development strategist and researcher. She is the founder of Oecumene Studio - as she likes to describe it : The evolving hub for creative processes, complex and connected mechanisms, disciplines, knowledge and people to rebuild resilient societies by bridging the gap between the Know and the Know how (The theory and practice). Oecumene Studio is where architecture is questioned, rethought and redefined to become a process to build societies, empower communities and support them to transmit their leg through generations: A complexe mechanism to design possibilities for positive impact.
Her main research interests revolve around architecture in development, urban resilient projects, empowerment of communities through holistic integrated projects and strategies. Working for over ten years internationally in the area of community development, urban governance and strategic planning, and urban technologies in MENA and Africa led her to initiate several projects 'Urban Catalyst' in partnership with local communities and various stakeholders, organizations like UNHCR and Terre Des Hommes and institutions in search of real and effective solutions to urban challenges of this century. Having heterogeneous studies steered her to be aware of the importance of multidisciplinary practice and the influence of sharing knowledge which led to the idea of Co-founding SCS Resilience and Sharnaqa in 2019. Parallel to her work she teaches theory of art and architecture, Urban Design, urban resilience, history of architecture and cities and she conducts several design and build workshops that aims to foster sharing knowledge and empowerment of vulnerable groups. She is also the curator of In-situ Community Build Exhibition: Ala-Abouh and ArchitectureForChange: Genius Tempus (Exhibition/Symposium/Workshop) Series.
www.oecumene-studio.org
www.sharnaqa.org
www.placemakingmena.com
www.we-ganda.org
www.architectureforchange-scsr.space
LOUDREADERS Session 14: Wilhelm Scherübl Jr.
September 6, 2020
12:00pm EST

Wilhelm Scherübl Jr. loudreads on the invisible committee in virtual space.

Wilhelm Scherübl Jr. is an architect and artist based in Vienna, Austria.

In his work he deals with social behaviour, daily routines as well as political issues. By using different media he tries to transport his observations and to cast a critical eye on topics.

He works in close connection with the group TAB, whose work also focuses on social and cultural issues related to architecture, design and space. In their conceptual and architectural projects they question current trends and seek alternative solutions.



www.scheruebl.me

www.tabcollective.net
LOUDREADERS Session 13: Franziska Stöhr
August 9, 2020
12:00pm EST

Franziska Stöhr Loudreads Utopia as Method by Ruth Levitas and asks What if...? on the Utopian.

After completing her studies in Art History, Philosophy, and Curatorial Practicein Karlsruhe, Heidelberg, and Bern, Franziska Stöhr authored her PhD thesis endlos, the first comprehensive publication on the history of film and video loops in the interplay of technology, art, and exhibition history. She has been working as a curator and lecturer since. Franziska Stöhr has taught at the University of Television and Film Munich, the Karlsruhe University of Art and Design, and the University of Freiburg. Exhibitions co-curated by her include Creating Realities. Encounters Between Art and Cinema at the Pinakothek der Moderne, Archaeology of the Future. Art and Games at the State Museum of Egyptian Art (both 2015 as part of Kino der Kunstin Munich), Pop Pictures People at the Museum Brandhorst (2017), Thrill of Deception. From Ancient Art to Virtual Reality at Kunsthalle München (2018), and Hermann Glöckner—A Master of Modernism at the Staatliche Graphische Sammlung München (2019). Franziska Stöhr furthermore curated the video art presentations Im Blick (2017), Inversed World (2019), Dance Images (2019), and this year's interdisciplinary exhibition What If ...? On the Utopian in Art, Architecture, and Design (2020) at the Neues Museum Nürnberg. In July 2020 she took up her position as a curator at the Kunsthalle München.
LOUDREADERS Session 12: Jimenez Lai loudreads on Metamodernism
August 1, 2020
8:00pm EST
Jimenez Lai joins from Los Angeles to Loudread on Metamodernism and Bureau Spectacular.
Jimenez Lai works in the world of art, culture, and education. Around the turn of the century, Jimenez Lai lived in a desert shelter at Taliesin and resided in a shipping container at Atelier Van Lieshout on the piers of Rotterdam. Before founding Bureau Spectacular, Lai worked for various international offices, including MOS and OMA. Lai is widely exhibited and published around the world, including the MoMA-collected White Elephant. His first book, Citizens of No Place, was published by Princeton Architectural Press with a grant from the Graham Foundation. Draft II of this book has been archived at the New Museum. Lai has won various awards, including the Architectural League Prize for Young Architects and Debut Award at the Lisbon Triennale, and the 2017 Designer of the Future Award at Art Basel / Design Miami. In 2014, Lai represented Taiwan at the 14th Venice Architectural Biennale. In 2015, Lai organized the Treatise exhibition and publication series at the Graham Foundation. Alongside MoMA, Lai's work has been collected by SFMOMA, Art Institute of Chicago, and LACMA. Lai has taught at various universities, including Texas Tech, OSU, UIC, Syracuse, Cornell, Columbia, and UCLA.
http://bureau-spectacular.net/
LOUDREADERS Session 11:
WAI Think Tank an illustrated Loudreading of An Anti-Racist Manifesto
June 13, 2020
4:00pm EST

On the occasion of the vital uprisings of manifestations demanding justice and dignity for Black Lives, WAI loudreads 'Un-Making Architecture: An Anti-Racist Manifesto'.

LOUDREADERS Session 10:
Luis Othoniel Rosa Loudreads Pyotr Kropotkin Mutual Aid: A Factor of Evolution
June 6, 2020
4:00pm EST
Luis Othoniel Rosa discusses other worlds gestated within capitalism by Loudreading Pyotr Kropotkin Mutual Aid: A Factor of Evolution
Luis Othoniel Rosa (Puerto Rico, 1985) is the author of the novels
Otra vez me alejo
(Argentina, 2012) and
Caja de fractales
(Argentina/Puerto Rico 2017), and of the study
Comienzos para una estética anarquista: Borges con Macedonio
(Chile, 2016). His last novel has been translated as
Down with Gargamel!
(Argos Books, 2020). He studied at the University of Puerto Rico and holds a Ph.D. from Princeton. He teaches ar University of Nebraska.
https://elroommate.com/
LOUDREADERS Session 9:
Ryan Scavnicky discussesick Hebdige's Subculture: The Meaning of Style, Memes, and the Architecture of Video Games
May 30, 2020
4:00pm EST

Ryan Scavnicky loudreades Dick Hebdige's Subculture: The Meaning of Style while discussing the work of Extra Office, Memes, and Style.

Ryan Scavnicky is the founder of Extra Office.

His work is published in ArchDaily, Architect's Newspaper, SCI-Arc Offramp, UCLA POOL, Archinect, and Hyperallergic.

In addition, he has over 6 years of experience in international offices in Beijing, San Francisco, and Vienna.

He received his Masters in Design Theory and Pedagogy with distinction from SCI-Arc in Los Angeles. He studied at DAAP in Cincinnati for his Masters of Architecture.

Ryan is currently teaching at the Ohio State University and Kent State University.

He has previously held appointments at the University of Cincinnati, the School of Architecture at Taliesin, and SCI-Arc.

https://www.extraoffice.co/

LOUDREADERS Session 8:
VenidaDevenida Loudreads on Queer Carthographies and Dissident Practices
May 23, 2020
4:00pm EST

Madrid-based collective VenidaDevenida Loudreads Paul B. Preciado Queer Cartographies and discusses Annie Sprinke, Post-Porn, and alternative and subversive Cartographies.

VenidaDevenida identify as a collective, centred on the collaboration between Ana Olmedo and Elena Águila. With shared backgrounds in architecture and art, they first worked together while at the European University of Madrid in 2014. Their joint research focused on an approach to architecture and design as tools for activism, using them as speculative and investigative mediums.

The name VenidaDevenida refers to being and becoming, based on the idea that identity is a continual process of conflict and negotiation. The name was adopted from 2016 on, and established a mode of working related to identity manifested through reappropriated objects and spaces used as resistance to promote divergent positions. As a collaborative work, their projects underline the importance of building a collective alternative to question the prevalent architectural narratives. VenidaDevenida's work is centred on the idea that architecture and design can be unfixed, in flux and constantly changing. Through these ideas they see users not as mere spectators, but actors who can construct and perform their own rules within architecture.

Their practice exists across multiple channels –spatial installations, publications, garments, graphic identities and videos– to examine the hegemonic means of representations in visual practices and suggesting critical alternatives to them. Their aim is to be sensible to the political understanding of cities, communities and spaces.
LOUDREADERS Session 7:
Léopold Lambert loudreads on the politics of space and bodies, Architecture of the Counterrevolution, Potential History, and Our History is the Future
May 16, 2020
12:00pm EST

Joining from Paris, Léopold Lambert, editor-in-chief of The Funambulist, reads from Samia Henni's Architecture of the Counterrevolution, Ariella Azoulay's Potential History, and Nick Estes' Our History is the Future.

Léopold Lambert is the editor-in-chief of The Funambulist. He is a trained architect, as well as the author of three books that examine the inherent violence of architecture on bodies, and its political instrumentalization at various scales and in various geographical contexts. He is the author of Weaponized Architecture:The Impossibility of Innocence (dpr-barcelona, 2012), Topie Impitoyable: The Corporeal Politics of the Cloth, the Wall, and the Street (punctum, 2016) and La politique du Bulldozer: La ruine palestinienne comme projet israélien (B2, 2016). His forthcoming book (2020) is tentatively called States of Emergency: A Spatial History of the French Colonial Continuum.

Joining the discussion is Insaf Ben Othmane
Architect and urban development strategist, Insaf's research interests revolve around sustainable architecture, integrated urban planning and the dynamics of urban transformations and development of urban policies around the world and especially in the South.

LOUDREADERS Session 6:
inter·punct, FOLD, and WASH discuss alternative platforms for Loudreading
May 9, 2020
5:00pm EST

The sixth session of Loudreaders welcomes three platforms ran by students for the presentation and diffusion of discourses. Carnegie Mellon University inter·punc, The School of Architecture at Taliesin WASH Magazine, and University of Nebraska-Lincoln FOLD exchange questions, strategies, and projections.

LOUDREADERS Session 5:
Ilze Wolff presents Achille Mbembe 'Aesthetics of Superfluity' and Yakhal' Inkomo by Winston "Mankunku" Ngozi
May 2, 2020
3:00pm

Ilze Wolff proposes the Loudreading of 'Aesthetics of Superfluity' by Achille Mbembe, and presents Yakhal' Inkomo by Capetonian Jazz Legend Winston "Mankunku" Ngozi.

Ilze Wolff is an architect working in Cape Town. She co-directs Wolff Architects with Heinrich Wolff, a practice that is concerned with developing an architecture of consequence. In 2007 she co-founded Open House Architecture a research practice concerned with documenting architecture of Southern Africa. In 2013 she completed a Masters in Heritage and Public Culture at UCT with the thesis dissertation titled Unstitching Rex Trueform, an interdisciplinary study of the Rex Trueform garment manufacturing factory in Salt River, Cape Town. In 2016 the manuscript won the first edition of the International L'erma C prize, Rome and she is now working on preparing the manuscript for publication. Ilze has lectured and taught widely including at IUAV, Venice, Goa, India, Lisbon, Portugal. The work of the practice, has been exhibited at the Venice Architecture Biennale, Louisiana Museum of Modern Art, Denmark and the Chicago Architecture Biennale.

LOUDREADERS session 4:
Andrew Kovacs Loudreads picture books
April 25, 2020
5:00pm EST
On the ocassion of the fourth session of LOUDREADERS, Los Angeles-based
Andrew Kovacs
discusses picture books, the Archive of Affinities, serious fun in Architecture, architectural B-Sides, collecting versus hoarding, selfies, and Persistance Hunters.
Andrew Kovacs '06 (BArch) is a Los Angeles-based architectural designer and educator. Kovacs' work on architecture and urbanism has been published widely including A+U, Pidgin, Project, Pool, Perspecta, Manifest, Metropolis, Clog, Domus, and The Real Review.
Additionally, Kovacs is the creator and curator of Archive of Affinities, a widely viewed website devoted to the collection and display of architectural b-sides. In 2015, Kovacs published the book, Architectural Affinities as part of the Treatise series organized and sponsored by the Graham Foundation in Chicago.
Kovacs' design studio, Office Kovacs works on projects at all scales from books, exhibitions, temporary installations, interiors, homes, speculative architectural proposals and public architecture competitions. The recent design work of Office Kovacs includes a proposal for a network of parks in the downtown Los Angeles alleys, a large-scale installation entitled "Colossal Cacti" at the Coachella Valley Arts and Music Festival, and an experimental camping pavilion in the Morongo Valley Desert.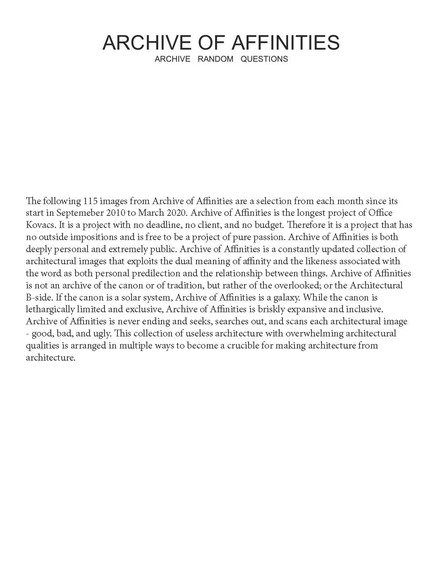 LOUDREADERS Session 3:
Narrative Architecture Book Release and Discussion
April 4, 2020
4:00pm EST
In the third session of
LOUDREADERS
WAI Architecture Think Tank discusses with Loes Van Esch and Simone Trum of Team Thursday the contents, concepts, process, strategies, ideas, and design of the recently published Narrative Architecture: A Kynical Manifesto (Rotterdam: NAI010 Publishers, 2020). As the world remains in unprecedented suspense, the authors and designers reflect on a book devised as an allegorical lantern to shed light on an honest architecture able to respond to the pressing challenges of our times.
The discussion features inter·punct as well as Traumnovelle, Daan Roggeveen and several students and designers from across the globe.
Cruz Garcia & Nathalie Frankowski / WAI Architecture Think Tank are the authors of Narrative Architecture: A Kynical Manifesto
WAI Architecture Think Tank is a studio practice architecture from a panoramic approach co-founded by Cruz Garcia and Nathalie Frankowski. Garcia and Frankowski are the current Ann Kalla Professors at Carnegie Mellon University and the former Hyde Chairs of Excellence in Architecture at the University of Nebraska-Lincoln, and Visiting Teaching Fellows at The School of Architecture at Taliesin Previous publications include Pure Hardcore Icons: A Manifesto on Pure Form in Architecture (London: Artifice Books on Architecture, 2013), Shapes, Islands, Text: A Garcia Frankowski Manifesto (Sevilla: Vibok Works, 2014), and the independent zine What About It?
Team Thursday are the graphic designers of Narrative Architecture: A Kynical Manifesto

Team Thursday is a graphic design studio founded by Loes van Esch and Simone Trum, collaborating as a duo since 2010. Team Thursday focuses on the design of visual identities and books varying in scale and complexity. Team Thursday irregularly hosts exhibitions and events in the front part of their studiospace, TTHQ.
Team Thursday works with cultural institutions, businesses and individuals like nai010 Publishers, Mondriaan Fund, Wilfried Lentz, Failed Architecture, Koen Taselaar, Independent School for the City and Stedelijk Museum Breda.
In addition to their daily practice they teach Typography at ArtEZ Arnhem, give workshops and lectures in various international institutions like OTIS Los Angeles, University of Seoul and HKU Utrecht.
teamthursday.com
inter·punct
inter·punct is a platform for ideas, theory, and discourse - sometimes about architecture and sometimes at its periphery. The group was founded by students at Carnegie Mellon University in 2011. As a collective we have no set agenda and go wherever our interests take us - from broadsheets to books to installations to lectures.
interpunct.pub
Loudreaders Session 1:
Traumnovelle discusses Octavia Butler 'Parable of the Sower'
April 4, 2020
4:00pm EST

In the inaugural session of Loudreaders, Léone Drapeaud of Traumnovelle reads and discusses Octavia Butler's Parable of the Sower (1993).

Traumnovelle is a militant faction founded by three Belgian architects: Léone Drapeaud, Manuel León Fanjul and Johnny Leya. Traumnovelle uses architecture and fiction as analytical, critical and subversive tools to emphasize contemporary issues and dissect their resolutions.

Traumnovelle alternates between cynicism and enthusiasm all the while advocating for critical thinking in architecture. Traumnovelle champions a multi-disciplinary approach with architecture at the crossroads. Traumnovelle distances itself from current forms of naive architecture and refuses to glorify the mundane. Traumnovelle sides with those who have not sacrificed ambition and criticism.